What is video enhancement?
Forensic video enhancement or image enhancement is the process of clarifying the events using non-destructive techniques, to preserve the integrity of the evidence. When we enhance video quality, we enhance the events as they occurred assists the trier of fact to make determinations. Our video enhancement company offers an overall 60% increase in clarity to the Trier of Fact. The success of the video enhancement services depend on the quality of the original video recording (frame rate, video resolution, bit rate)
VIDEO ENHANCEMENT INVESTIGATION
Often times we will perform a preliminary analysis to ensure we are confident in meeting our client's expectations. In order to enhance the video with forensic accuracy, we prefer to examine the source video. The source video will increase the success of the investigation as a whole. Once we are confident we can improve the video quality, we enter a full investigation and create demonstrative video files. 
These demonstrative video exhibits include motion based highlighting and/or circling, as well as speed reduction. We can enhance a wide range of video recordings including CCTV, social media, cell phone, dash camera, iPhone, body cameras and many more. 
We also offer image enhancement services to our clients. The image enhancement process is very similar to the video enhancement process, as a video is simply a series of images.
When we enhance images we use the same methodology that we apply to video enhancement investigations. The goal of image enhancement is to clarify the image using non destructive techniques. This is important to preserve pixel quality and ultimately improve the clarity of the digital image.
VIDEO & Image ENHANCEMENT processes
Each enhancement investigation is unique, which means no two videos require the same enhancement processes. As a video enhancement company, surveillance video enhancement or CCTV video enhancement is the most common type of investigation we perform. We also enhance law enforcement dash camera videos, videos from mobile devices such as smart phone or mobile video recordings and many more. Often times we are asked to provide forensic image enhancement as well for identification purposes.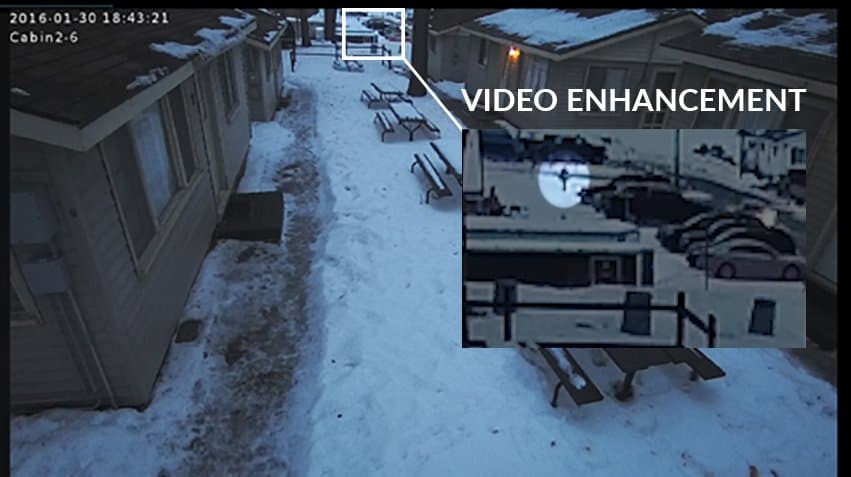 The most important ingredient to this scientific process is to maintain the high quality version of the video evidence. This yields the highest success possible throughout the investigation. The capabilities of the enhancement are limited if the analog or digital video has undergone additional video compression processes.
ENHANCE VIDEO QUALITY PRESENTATION IN COURT
I often provide expert witness testimony services to my clients once a video recording has been forensically clarified. Often times when i am asked to provide testimony, i bring my forensic enhancement software for presentation to the court. This gives me the ability to play the video quickly with features such as slow motion and frame by frame playback. 
We never want to cause a delay in the court proceeding due to technical difficulties. To learn more tips about presenting video evidence for courtroom use, click HERE. 
For example, older systems may not be bright enough for the trier of fact (judge and jury) to preview from. Other arrangements like projects and big screen TV's can be made if a courtroom doesn't have more advanced technologies.
Does your evidence recording have audio and video? Will the jury be able to hear the audio clearly?  Do you need a PA speaker or amplifier system to make the audio louder for everyone in court to hear?
Our clients customer satisfaction is our number one priority, Learn More.